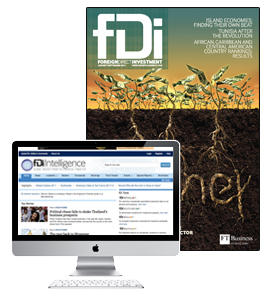 By: Murray McNeill
WINNIPEG has been named one of the top 10 mid-sized cities in North and South America for foreign direct investment (FDI) strategy and business friendliness by a Financial Times magazine.
In the third instalment of its biennial American Cities of the Future rankings for 421 large, mid-sized, small and micro-cities, fDi Magazine ranked Winnipeg fifth among the 77 mid-sized cities examined for FDI strategy. It also ranked it sixth for business friendliness.
The president and CEO of Economic Development Winnipeg Inc., which authored Winnipeg's comprehensive submission to fDi Magazine, said it's one of a number of "leading cities" competitions the agency enters in a bid to increase the city's international profile.
"When we're looking to attract investment or workforces or people to live here, we have to make sure we're on the radar as a city and as a smart, connected community," Marina James explained.
She said EDW made its submission to fDi Magazine, which picks the top 10 finalists in six different categories. The others are economic potential, human capital and lifestyle, connectivity, and cost-effectiveness. The business friendliness and FDI strategy were the only two where Winnipeg finished in the top 10.
It's the first time since the magazine began ranking cities in 2011/12 that Winnipeg finished in the top 10 in more than one category. In the magazine's 2013/14 rankings, it was featured only in the business-friendly category, placing seventh. Winnipeg was one of six Canadian cities to finish in the top 10 this year in the FDI strategy category and one of seven to finish in the top 10 in the business-friendliness category.
Only one Canadian city made it into the top 10 in the human capital and lifestyle category, and only two in the connectivity category.
"We welcome news like this, because it raises Winnipeg's profile worldwide and puts us squarely in the crosshairs of decision-makers looking for their next deal," James said. "And when bolstered by our city's responsive business climate, we find ourselves in an enviable position when it comes to convincing potential prospects that Winnipeg's collaborative culture between business, academia and government is intent on creating local conditions that maximize success."
James also congratulated Winnipeg's business leaders "for shaping, sustaining and growing the kind of investment-friendly environment that is increasingly making the world take notice."
The American Cities of the Future rankings are part of the Locations of the Future series presented by fDi Magazine. The series is designed to showcase the most promising destinations worldwide for future inward investment. Each region is assessed every two years.
A bimonthly publication, fDi Magazine is part of the fDi Intelligence division of the Financial Times.
This email address is being protected from spambots. You need JavaScript enabled to view it.
Republished from the Winnipeg Free Press print edition April 16, 2015 B7